WASHINGTON – A transgender woman who is a member of Brazilian President Luiz Inácio Lula da Silva's government said the storming of her country's Congress, Presidential Palace and Supreme Court in January sparked outrage among many Brazilians.
Symmy Larrat, who is Brazil's National Secretary for the Promotion and Defense of the Rights of LGBTQIA+ People, spoke exclusively with the Washington Blade on June 16. She was in D.C. to participate in an Institute on Race, Equality and Human Rights conference.
Thousands of supporters of former President Jair Bolsonaro on Jan. 8 stormed the country's Congress, Presidential Palace and Supreme Court.
Da Silva took power a week before the insurrection. His predecessor, who did not accept last October's election results, was in Florida when Da Silva took office. 
Bolsonaro has since returned to Brazil.
"There are two aspects of Jan. 8. The first that scares me the most is people now think we won the election and we're set and nobody protected themselves against what happened," Larrat told the Blade, speaking through a Brazilian Embassy staffer who translated for her. "That moment signaled for all of us how absurd the extremists are. The other side doesn't respect the democratic system." 
"On the other hand it showed Brazil that what we were denouncing as a very aggressive posture was a reality," she added. "Brazilians are very patriotic and people felt offended by it."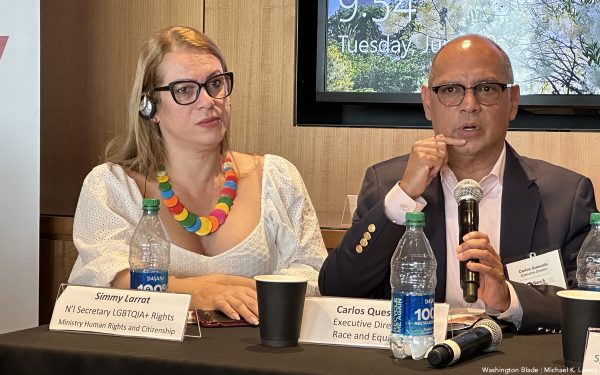 Larrat was born and raised in Belém, a city near the mouth of the Amazon River in the country's Pará state.
Her parents were history teachers, and she said that's why she "always had this questioning, curiosity" about different social justice movements. Larrat studied communications at the Federal University of Pará and her advocacy began with what she described to the Blade as "the democratization of communication structures and networks."
Larrat later became an LGBTQ and intersex rights activist.
She organized Pride parades, helped establish NGOs and founded a shelter and community center for vulnerable LGBTQ and intersex people. Larrat told the Blade she responded to the lack of support for LGBTQ and intersex people in Belém and throughout the Brazilian Amazon.
"That's what made me sense the necessity of justice and inequality because of the lack of support for LGBT people in the Amazon is just one of the things that we lack in the region," she said. "It's a region with a lack of information, technology. It's a very colonized region in the worst sense of the word; not colonized only by the world, but also colonized by Brazil, the lack of policies for development."
"It is a region that is very rich with a very poor population, so there is still an extractivist logic. that we develop consumer products and we feed the international regions, but we don't benefit from what is created," she added, noting it is often to travel from São Paulo to other countries than it is to fly from the country's commercial capital to Belém and other cities in the Amazon. "The access is difficult. You don't have access to medical care, information technology. There's a lot of difficult access to information and information technology."
Larrat said she knew she "had a feeling as a teenager that I was transgender, but at that time I didn't see transgender people in places of power." 
Brazilian model Roberta Close, who is trans, was well-known throughout the country in the 1980s. Larrat said trans people at that time were prominent in Brazilian media and art, but "mostly in a pejorative way."
"I had the conscience that I needed to study, to take myself out of this situation of vulnerability, so I had to study," she said.
Larrat came out as trans when she was 30.
She was already active in various social movements, but she engaged in sex work "to survive." Larrat said her family kicked her out of their home when she was a teenager, but she "reconnected with" her mother after she transitioned. Larrat told the Blade that her family now accepts her gender identity.
"The truth was what I was saying gave her (my mother) an understanding of my suffering and then she accompanied me with all my transitioning processes and that made her understand and she got scared about aggressions that I may suffer from society," she said. "That's when we reconnected, with her and with all of her family. Today they're very accepting of it."
Bolsonaro government was 'terrifying'
Former President Dilma Rousseff's government in 2013 invited Larrat to join the country's Human Rights Ministry as an assistant for LGBTQ and intersex rights. Larrat joked she "was prostituting myself at night … and the next night I went to Brasília to go to the federal government."
"That's exactly what happened," she said.
Larrat left the government once Rousseff was impeached in 2016.
Bolsonaro, a former congressman and former Brazilian Army captain, took office in 2019. He faced sharp criticism because of his rhetoric against LGBTQ and intersex Brazilians, women, people of African and indigenous descent and other groups.
The former president, among other things, encouraged fathers to beat their sons if they came out as gay. A Brazilian Federal Police investigator last August called for prosecutors to charge Bolsonaro with incitement for spreading false information about COVID-19 after he said people who are vaccinated against the virus are at increased risk for AIDS. 
"It was terrifying to be there during the Bolsonaro government because we were seeing the public policies all being deconstructed, being destroyed," said Larrat. "We knew the impacts of it on the lives of people, but it was a shock to all of us the institutionalization of hate speech."
Larrat further stressed the majority of Brazilians do "not agree with the hate speech, but they are influenced by it." Larrat also said this hate speech — "we have to protect our children. I can be who I am, but I cannot be it in front of children" — is part of a larger strategy to make Brazilians afraid of LGBTQ and intersex people.
"It's speech that paints us as a menace and puts fear in people," she said.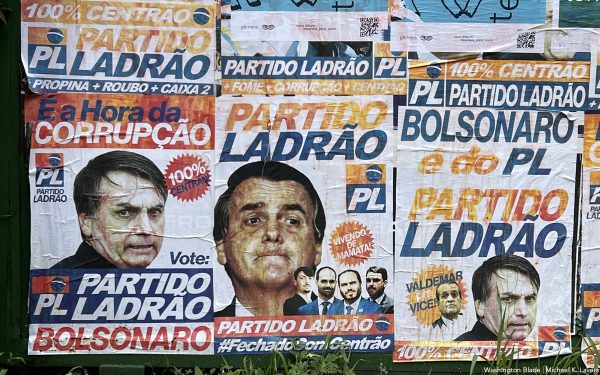 Brazil's Supreme Electoral Tribunal on Friday banned Bolsonaro from running for office until 2030. The Associated Press noted five of the court's seven judges agreed the former president used "official communications channels to promote his campaign" and spread disinformation about last year's election.
Larrat admitted the 2022 campaign was "very difficult" for Brazil. She stressed Da Silva won, in part, because he believes in democracy.
"The power of dialogue that he has is impressive; the capacity to speak to everybody, to speak with both sides on each day," said Larrat. "He negotiates with both sides. He's a very good political articulator."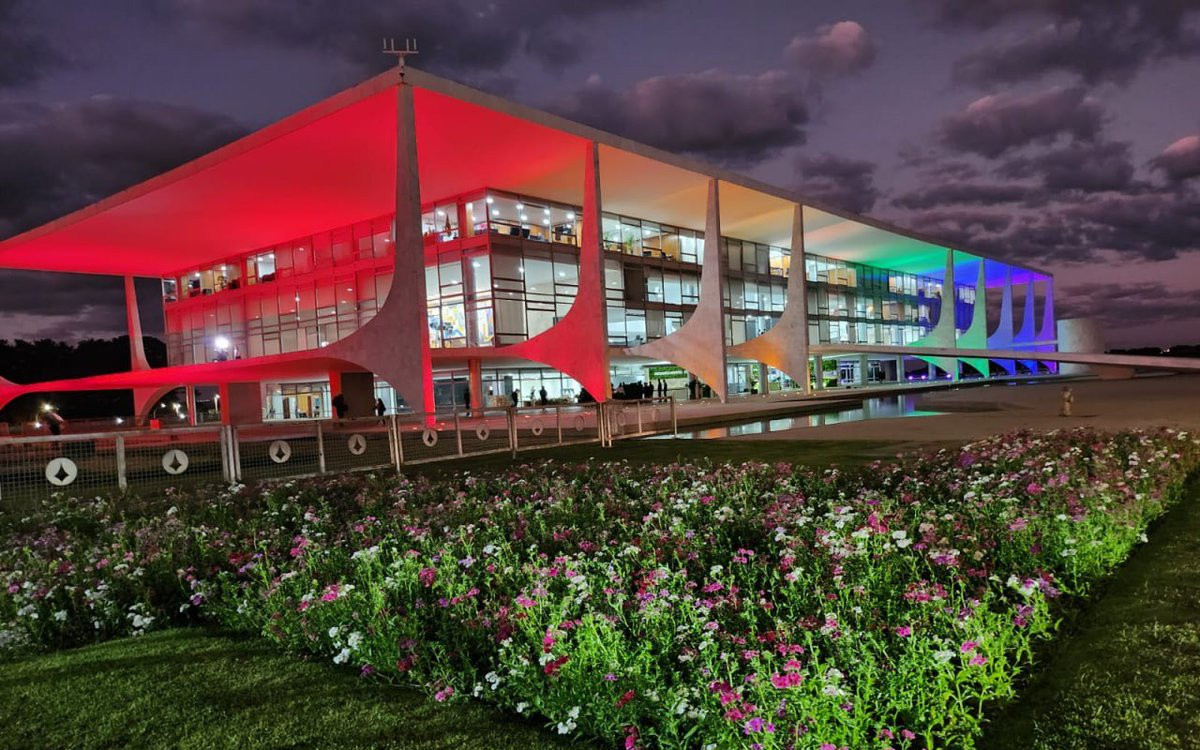 Congresswomen Erika Hilton and Duda Salabert, who are both transgender, won their respective elections last October.
Larrat, who said she is friends with both of them, told the Blade trans Brazilians still lack representation in the country's political process. Larrat, however, did stress Hilton and Salabert's election is an important step forward for the country.
"It's still very little," said Larrat. "We went from nothing to something."