The Melanated Wholistic Wellness Fair, a community-driven event focusing on holistic health and wellness, is set to take place at the North Charleston Athletic Center on Nov. 11.
Hosted by Charleston native Renee Reid, the fair offers attendees the opportunity to explore various aspects of well-being, from physical to emotional health. 
The event focuses on addressing disparities in Black health in the United States, which is often a result of systemic factors such as limited access to quality health care, socioeconomic inequities and unequal distribution of resources.
Currently, Black people in the U.S. are disproportionately affected by numerous chronic health issues such as diabetes, heart disease, cancer and kidney disease. In South Carolina, many Black residents suffer from obesity, high blood pressure and high cholesterol at more pronounced rates than White residents.  
"This fair aims to create a space where people can come together, learn, grow and collectively embrace a healthier, harmonious future," Reid told The Post and Courier.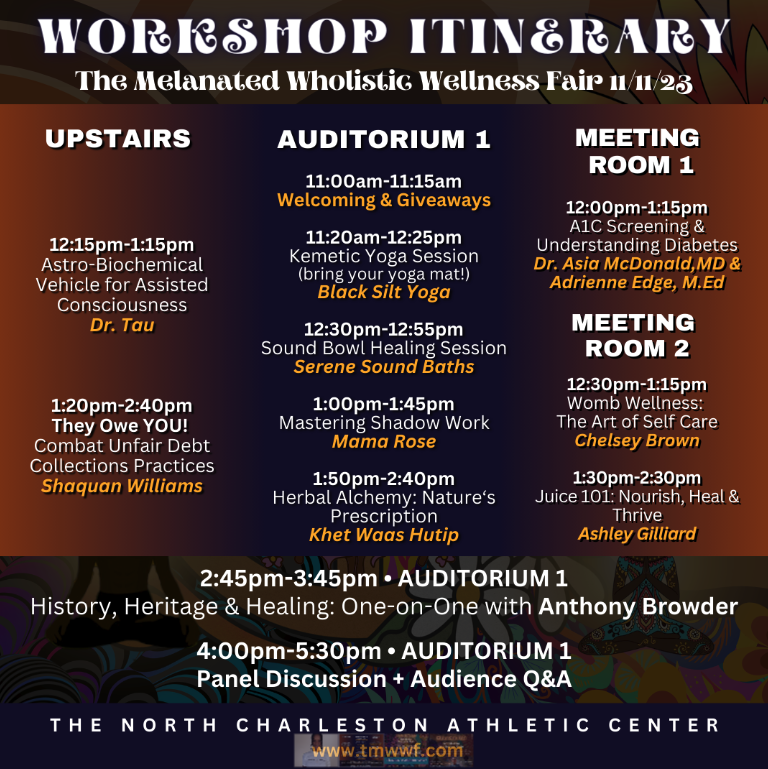 The event will offer an array of educational opportunities, including:
Juicing workshop: Ashley Gilliard, a certified juice practitioner and owner of The Herbal Ash Pot juicing company, will lead a session on techniques and provide recipes for improving health.
Yoga: Calming yoga sessions will be available to help alleviate stress and enhance flexibility.
Sound bowl therapy and reiki: Attendees can discover the healing benefits of sound bowl therapy and reiki, ancient practices known for promoting relaxation.
Health panels: Expert-led discussions will cover practical tips and insights on staying healthy and maintaining overall well-being.
A1C screenings and understanding diabetes seminar: Gain insights into diabetes and take the opportunity to receive screenings by Dr. Asia McDonald from Healthy Roots MD.
Combating unfair debt collections practices seminar: Attend a session with Shaquan Williams that addresses rights and strategies to navigate debt collection practices.
Reid said that while the wellness fair primarily focuses on addressing the unique health challenges affecting the Black community, it is open to individuals of all backgrounds who share an interest in well-being. The event aims to ignite crucial conversations about generational health, education and empowerment.
For more information and updates on the Melanated Wholistic Wellness Fair, visit www.tmwwf.com. The fair will be held at 5794 Casper Padgett Way in North Charleston from 11 a.m. to 4 p.m.