Black service members have long played pivotal roles in major U.S. military conflicts – though for much of the country's history, their achievements were overlooked. 
A monument unveiled in Baton Rouge Wednesday by Gov. John Bel Edwards, state lawmakers and a group of Black military officials aims to provide a measure of recognition to Black veterans' accomplishments and struggles.
The 9-feet-tall, 12-feet-wide bronze monument erected on the grounds of the State Capitol sits atop a limestone base and depicts a range of military heroes, starting with formerly enslaved soldiers in the U.S. Civil War and concluding with the United States Space Force. Some of those shown include the Tuskegee Airmen; Colin Powell; and Lieutenant General Russel Honoré, a native of Lakeland, Louisiana who became a face of Hurricane Katrina recovery efforts, among others.
State Sen. Royce Duplessis, D-New Orleans, helped shepherd legislation to fund the sculpture and spoke at Wednesday's unveiling ceremony about his grandfather's naval service in World War II. While at sea, his grandfather endured discrimination, Duplessis said. He was ordered, for example, to handle explosives that White service members were exempt from.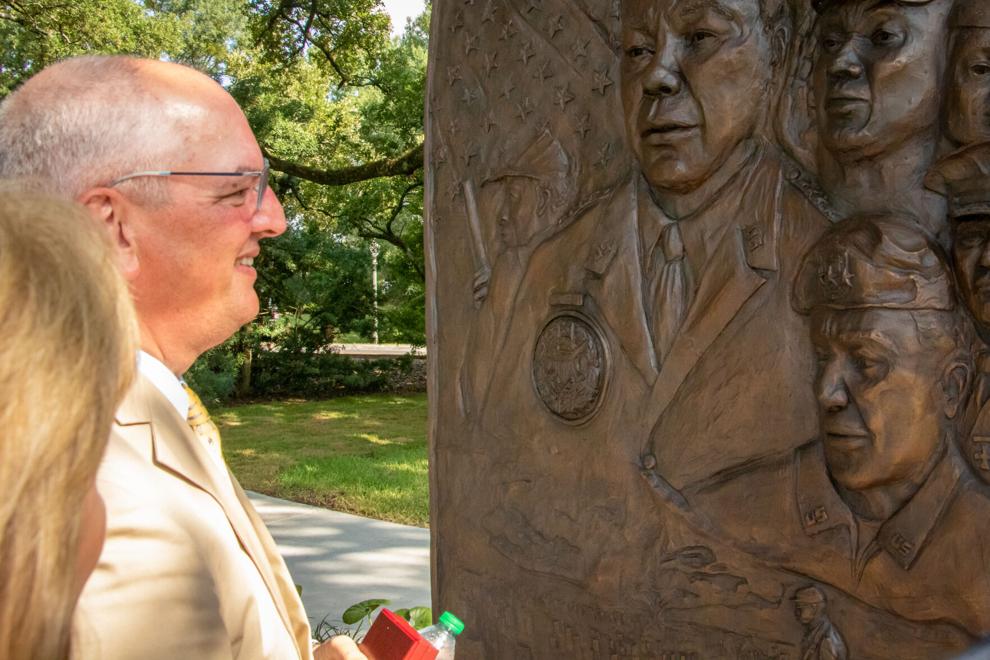 "He carried the pain throughout his life of the treatment that he received," Duplessis said. 
Edwards said the idea for the monument materialized in part after a conversation in 2019 between the governor and his chief of staff, Mark Cooper, about Black soldiers' role in the Civil War battle at Port Hudson, Louisiana. Edwards had recently visited the Whitney Plantation, a River Parishes site dedicated to telling the unvarnished reality of slavery. It was there, he said, that he first learned of Black soldiers' role in that battle.
"Mark and I realized an injustice had been done, because those individuals had not been honored properly," he said. "Not at the siege of Port Hudson, and really not any African American veteran of any campaign or war." 
Hundreds of African American men from Louisiana who lost their lives in combat at Port Hudson did not receive funerals and their bodies were not initially buried, Edwards said in his address.
"This monument is for true patriots who loved their country even when their country didn't love them as it should have," said Edwards, himself an army veteran who graduated from the U.S. Military Academy at West Point.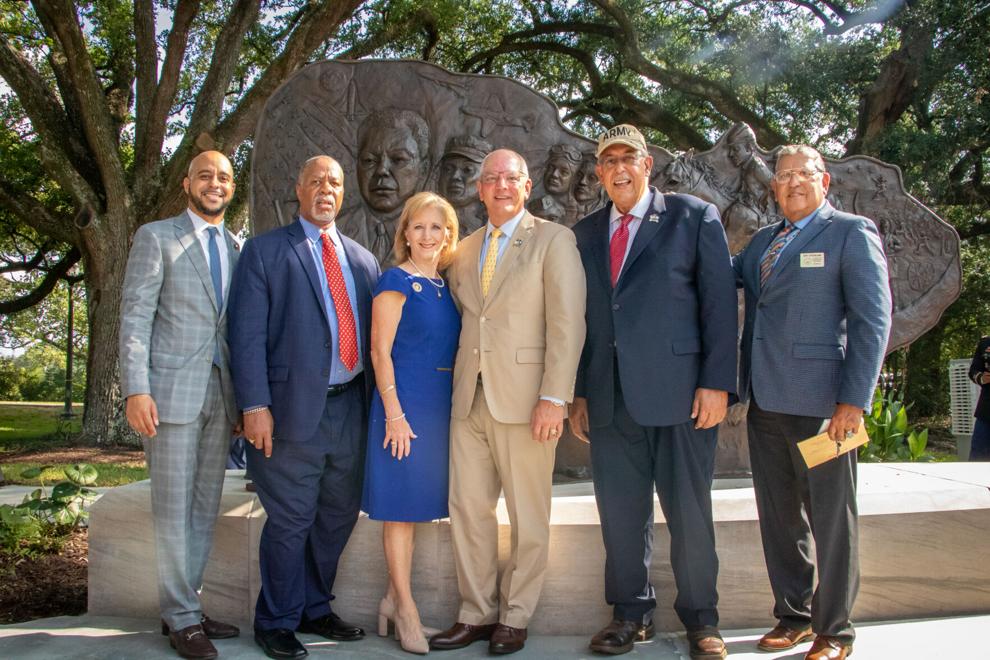 New Orleans-based artist Sheleen Jones, an art instructor at Xavier University, designed the monument.
"I wanted to make sure that this piece told the story of not necessarily war, but that people had been here for centuries, doing this service," Jones said at the ceremony.
The monument was unveiled one week before the 75th anniversary of the desegregation of the U.S. military, which occurred on July 26, 1948.