The owner of Braymiller Market says business has picked up since the downtown store made changes to the types of food and other products that it carries.
But while city officials say they are encouraged by the uptick in sales – and approved a forgivable $561,000 loan to bail out the business from its pandemic woes – they also warned that more improvement still is needed for the troubled market to be able to stand on its own.
The News' Buffalo Next team covers the changing Buffalo Niagara economy. Get the news in your inbox 5 days a week.
The downtown market, adjacent to the new affordable housing apartment building at 201 Ellicott St., was in the spotlight for much of the spring and summer as officials debated whether to grant financial assistance Braymiller owner Stuart Green said was essential to keep the store open.
Since the bailout was approved, Green said more people have been coming into the store, not only from downtown but in surrounding neighborhoods.
"We know people living in East Buffalo use Braymiller Market, and we know people in West Buffalo use Braymiller Market, and we have a growing downtown community that we want to continue to grow," Mayor Byron W. Brown said Thursday.
To win the subsidies, the city prodded Green to change some of the products he sells from "the more expensive brands to less expensive, more generic brands," said Lisa Hicks, the city's director of development. Such products are more affordable to more people, particularly those coming from low- and moderate-income neighborhoods.
For example, Green realized that he has "a significant number" of food stamp customers, who aren't able to use the benefit for hot prepared foods like rotisserie chicken. So he's selling the same meals to them cold, so they can qualify. He also switched from national brands to generic labels.
"We've been making those changes since Day One," Green said, citing a 15% increase in annual sales at Braymiller from its first year of operation through September 2022 to its most recent year.
"It's a brand-new project, never been done before. So we change every day, and we ask our customers what they are looking for every day, and that's what we're always trying to fill," Green said.
Even so, Hicks added, there's more work that Green needs to do through marketing and technology initiatives before the store can be profitable, and the city expects him to follow through.
"Some of the publicity around this has caused more people to go into the store," she said. "I do believe there has been an increase in sales and revenues for the market, but not enough for it to be sustainable at this point."
That's why city officials said Braymiller still needs the $561,317 forgivable loan from the city that received final approval Thursday from the Buffalo Urban Renewal Agency, which controls the federal community development block grant money for micro-enterprise funding that will be used to support the market.
That money will be used as working capital for day-to-day business expenses such as utility bills, inventory, technology, marketing and communications, but not to pay Green.
Green said it will fund the investments that he wants to make but has not been able to do until now, because he had to devote his money to keeping the business afloat and paying his employees. It essentially reimburses him "for money we've already spent," while freeing up funds for future use "to make the business better and more profitable," he said.
"We have figured out what the landscape looks like, who our target customer is going forward, and we needed the money to do that," he said. "There's a marketing plan, a new business plan that includes some new technology, and other things and product offerings that we haven't been able to make because we've been trying to dig ourselves out of a hole that was created in the pandemic."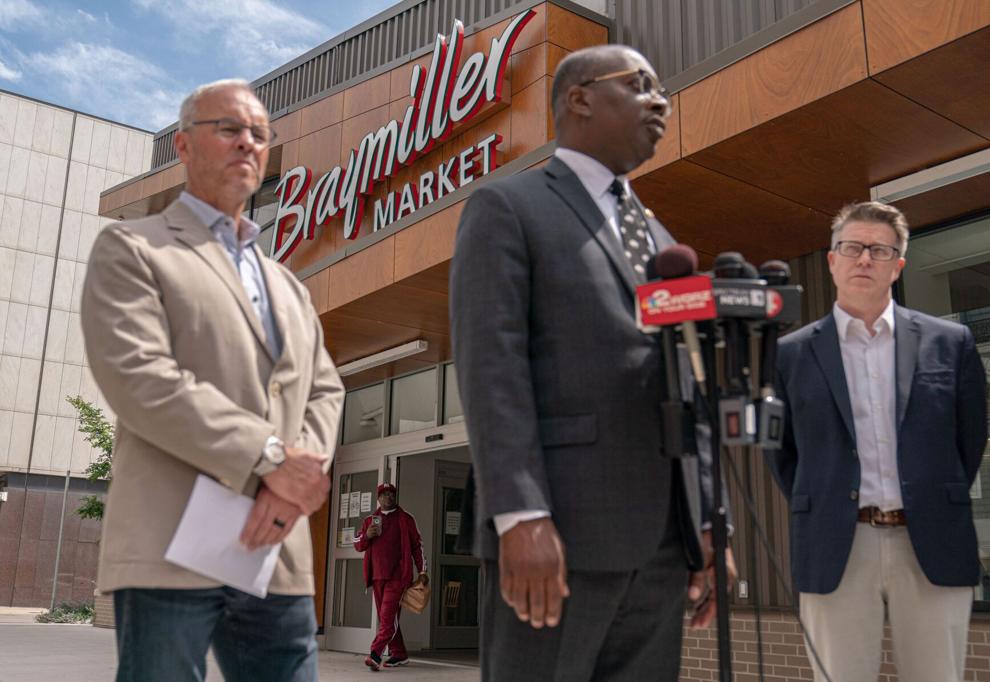 The loan – ultimately a grant if Green complies with all terms – was recommended by the Brown administration, which had worked with Ciminelli Real Estate Corp. several years ago to lure Braymiller to the project. The loan was also previously approved by the Common Council, but only after the mayor and Council agreed to allocate another $3 million to help other small businesses who were harmed by the pandemic.
It was also matched with a $500,000 investment from Ciminelli owner Paul Ciminelli. And Green noted that he has $9 million invested in the store property, which he owns, with a $5.5 million mortgage from Evans Bank and a $1.5 million forgivable loan from the state Rural & Urban Community Investment Fund.
"Stuart Green took a huge risk, and I think he deserves this," said Common Council President Darius Pridgen, who has represented downtown Buffalo for over a dozen years, and was involved in the search for an urban grocer. "Nobody would come in, nobody. None of our local grocery stores, nobody would come to downtown. And he took a risk."
But Pridgen also said he had reservations. "I'm not in total support of this. I'm very afraid of this loan," he said. "But at the end of the day, small businesses across the city will benefit from this."
He also stressed that Green needs to advertise in the surrounding areas, not just downtown. "If we're not going to market in an African American community, then I think we've missed the boat," he said.
The two-year loan, at 9% interest, will be secured in part by Green's Hamburg store, which was appraised at $900,000, although there's already a $300,000 mortgage on that property.
No payments will be due unless Green defaults on the terms. Under the forgiveness terms, Green must own and operate the store for at least two years, must keep it open regular hours and must continuously employ or create at least seven full-time jobs for low- and moderate-income workers. He also agreed to implement a series of initiatives to boost profits within 12 months, and worked with the city on marketing, business and community benefits plans.
Hicks said the city will not be paying for Green's marketing initiatives for his own store, but the Buffalo Urban Development Corp. will kick off an overall marketing campaign for downtown Buffalo, including Braymiller. "The key is to bring people back downtown," she said.