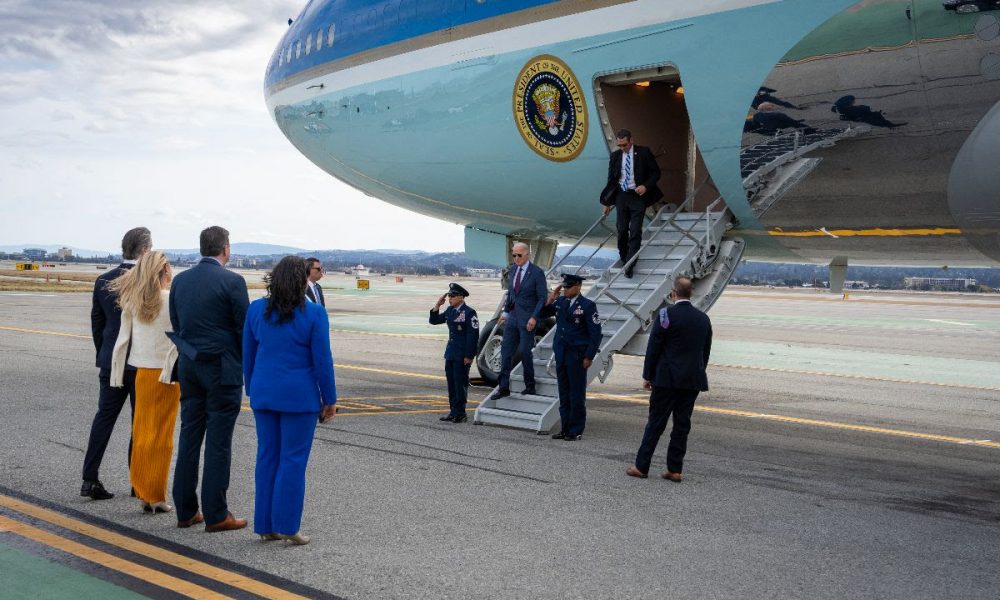 WASHINGTON — Thursday is the annual Intersex Awareness Day.
Intersex Awareness Day commemorates the world's first-ever intersex protest that took place in Boston on Oct. 26, 1996. The Washington Blade this week spoke with Kimberly Zieselman, a senior policy advisor to Jessica Stern, the special U.S. envoy to advance the human rights of lesbian, gay, bisexual, Transgender, queer and intersex persons.
BLADE: What is intersex?
ZIESELMAN: Intersex is an umbrella term used to describe a person with one or more sex characteristics (including genitals, internal reproductive organs, chromosome patterns and hormone levels) that do not fit typical binary notions of male or female bodies. In some cases, intersex traits are visible at birth while in others they are not apparent until puberty. Some intersex variations may not be physically apparent at all. 
According to experts, between 0.05 percent and 1.7 percent of the population is born with intersex traits — the upper estimate is similar to the number of red-haired people or people with green eyes and is more common than identical twins. Approximately 136 million people meet the definition. 
BLADE: What are some common misconceptions about intersex people?
ZIESELMAN: Two common misconceptions include assuming all intersex persons have nonbinary gender identities or bisexual orientations. A third common mistake is confusing intersex with Transgender.  
Being intersex relates to biological sex characteristics and is distinct from a person's sexual orientation or gender identity. An intersex person may be straight, gay, lesbian, bisexual or asexual and may identify as female, male, both or neither. Intersex individuals may identify as men, women, Transgender, nonbinary or any of the range of diverse gender identities — just like everyone else. 
BLADE: What is Intersex Awareness Day? 
ZIESELMAN: Intersex Awareness Day falls annually on Oct. 26 and marks the first public demonstration by intersex persons in North America that took place back in 1996 in Boston, Massachusetts, outside a conference of the American Academy of Pediatrics. In 2003 activists began using the date to raise awareness, and today 20 years later, it has become an internationally recognized date, and the period between Oct. 26 and Nov. 8 (Intersex Day of Solidarity) has increasingly become a period of both education and awareness raising across the world.  
BLADE: Why is Intersex Awareness Day important?
ZIESELMAN: Despite not being that rare (after all, it is more common than cystic fibrosis or identical twins), intersex has largely remained invisible due to the shame and stigma many cultures and societies have attached to it. Because their bodies are seen as different or even disordered (medical practitioners commonly refer to intersex persons as having "disorders of sex development"), intersex children and adults are often stigmatized and their human rights undermined, including related to their health and physical integrity, equality and nondiscrimination and freedom from harmful medical practices. 
Intersex infants and young children are frequently subjected to unnecessary harmful medical practices (including cosmetic genital surgery) for the purpose of trying to make their appearance conform to binary sex stereotypes. These medically unnecessary procedures can cause permanent infertility, pain, incontinence, loss of sexual sensation and life-long mental suffering, including anxiety and depression, post-traumatic stress and even suicide. In some cases, intersex persons may even grow up not identifying with the sex they were surgically assigned in infancy. 
In essence, much of society has historically tried to erase intersex persons. 
These medical procedures undermine bodily integrity and subject intersex persons to harmful practices. They are regularly performed without the full, free and informed consent of the intersex person concerned. Moreover, they are frequently performed on individuals under age two and children who are too young to be part of the decision-making.  
Parents and caregivers are often not given all necessary information to make a fully informed decision and may be pressured by doctors and other community members to permanently "fix" their healthy child. Such procedures are frequently justified by harmful norms and discriminatory beliefs about intersex persons and their integration into society.   
In short, Intersex Awareness Day is important because many are still unaware that intersex persons exist and/or that they are often subjected to human rights abuses. Sharing information and stories can help change hearts and minds and lead to changes in harmful treatment. 
BLADE: How is the State Department planning to commemorate Intersex Awareness Day?
ZIESELMAN: Last year State hired me as the first intersex policy advisory to assist with advancing the human rights of intersex persons in foreign policy. 
Last month, State, under the leadership of the Special Envoy to Advance the Human Rights of LGBTQI+ Persons, hosted five intersex activists to share their perspectives and activism work in five diverse regions of the world. The intersex experts met with a range of State Department staff as well as other agencies and NGOs while in D.C. 
Now the special envoy's team is working on new resources for all State Department employees providing information on key issues of concern related to intersex persons and suggestions for working together with civil society and local governments to not only raise awareness but also to work towards the advancement of human rights.
In celebration and recognition of Intersex Awareness Day, State will release a statement once again affirming the United States' commitment to promoting the human rights of intersex persons globally. 
BLADE: What has the Biden-Harris administration done to protect intersex people? Can you please highlight a specific example/s? 
ZIESELMAN: The Biden-Harris administration has been the first ever to invite intersex Americans to share their stories and voice their concerns. This has occurred during two separate roundtables hosted by the White House as well as via a public call for input this year as part of the development of a soon-to-be-released report on Intersex Health Equity by the Department of Health and Human Services as mandated by Executive Order in 2022.  
Also, the State Department and USAID (U.S. Agency for International Development) have released an updated U.S. Strategy to Prevent and Respond to Gender-Based Violence (GBV) Globally that is inclusive of the GBV risks and needs of LGBTQI+ persons, including medically unnecessary and harmful surgeries on intersex persons. Intersex persons, and their needs and concerns, are starting to be addressed. 
BLADE: What have other countries done to protect intersex people? What can the Biden-Harris administration do to implement so-called best practices from around the world with regards to intersex people? 
ZIESELMAN: Some countries have passed laws banning or significantly restricting harmful cosmetic genital surgeries on intersex infants and children. Malta was the first to do so in 2015 and since then Germany, Greece, Iceland, Kenya, Portugal and Spain have joined the list. In addition, territories in both Australia and India have passed laws in attempt to protect intersex children. 
Though these medical practices still occur across most of the world including the United States, the Biden-Harris administration is currently working with intersex persons and families, provide platforms to share their lived experiences, and develop medical practices that affirm and support intersex persons across the lifespan. 
**
U.S. Reps. Becca Balint (D-Vt.) and Mark Pocan (D-Wis.), who chairs the Congressional Equality Caucus, on Thursday introduced the first-ever Intersex Awareness Day resolution.
The resolution specifically:
Supports the goals and ideals of Intersex Awareness Day;
Encourages the federal government, states, localities, nonprofit organizations, schools and community organizations to observe the day with appropriate programs and activities, with the goal of increasing public knowledge of the intersex community and empowering individuals to celebrate and respect their diversity;
Encourages health care providers to offer culturally and clinically competent care to the intersex community, and schools to support education regarding the intersex community and connect individuals to resources for young people with intersex variations and their families and
Encourages the federal government, states, international funding organizations, and United States bilateral and multilateral aid efforts to prioritize the health and human rights of intersex people. 
"Intersex people must be recognized as valid and seen within the LGBTQI+ community," said Balint in a press release. This resolution is an important step in uplifting the intersex community and fighting interphobia."
Erika Lorshbough, executive director of interACT, a group that advocates on behalf of intersex youth, in a statement applauded the resolution.
"Intersex awareness is not merely a matter of educating the public that people with intersex variations exist; it is additionally about illuminating the harmful legacy — and continuing practice — of unnecessary and unwanted medical interventions on young intersex children, which is increasingly recognized as a human rights violation around the world," said Lorshbough. "We extend our deep gratitude to Representatives Balint and Pocan for taking action to further these goals."